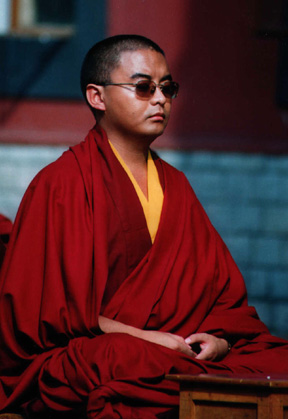 Mingyur Rinpoche
Friday, September 26:
Evening talk -- 7pm

Saturday, September 27:
Day-long workshop -- 10am to 6pm

Friday talk -- $10 / Saturday workshop -- $50

Shambhala Meditation Center of New York
118 West 22nd Street, 6th floor
New York, NY 10011
212-675-6544 http://ny.shambhala.org

Tranquility Meditation
True happiness can only come from a mind that is peaceful and tamed. Tranquility meditation cultivates the mind's natural ability to abide peacefully. Mingyur Rinpoche will explain what tranquility meditation is and how it works. For those who would like to experience tranquility meditation in greater depth, Rinpoche will give a day-long program on Saturday, September 27, and lead us through various guided meditation practices.

Jill Satterfield of Vajrayoga, a close student of Mingyur Rinpoche, will be conducting guided posture and yoga for meditators at the program.


Mingyur Dorje Rinpoche was born in Nepal in 1976 and began his Buddhist monastic education as a child. He completed his first three-year retreat at the age of 17 and was appointed retreat master of Sherab Ling monastery. Mingyur Rinpoche is recognized as the 7th incarnation of Yongle Mingyur Dorje, a legendary Tibetan meditation master and scholar whose lineage made enormous contributions to the Buddhist canon. Rinpoche is known for his ability to convey the Buddhist teachings in a clear and skillful manner.

PRE-REGISTRATION IS HIGHLY RECOMMENDED.

To register, call 212-675-6544, or register online (link to secure server) at: http://ny.shambhala.org/cgi-bin/programs.cgi?event=456

This event is part of MeditateNYC, a week-long festival of meditation teachings at locations around the city. For more information on this and other events that are part of MeditateNYC, please visit: http://www.meditatenyc.com


The Pundarika Foundation website www.pundarika.org has been updated with details of Mingyur Rinpoche's (Tsoknyi Rinpoche's younger brother) teaching schedule for the rest of 2003.

Sep 28 - Oct 6 Karma Triyana Dharmachakra, Woodstock NY USA Oct 10 - 13 Karma Kagyu Sherab Ling, Sugarland TX USA Oct 14 - 20 Kagyu Mila Guru Center, Questa NM USA Oct 21 Tsoknyi Rinpoche's Center, Crestone CO USA Oct 22 Boulder Shambhala Center, CO USA Oct 23 - 30 Shambhala Mountain Center, CO USA Oct 31 - Nov 4 University of Kansas, USA Nov 6 - 9 Rangjung Yeshe Retreat Center, Leggett CA USA Nov 11 - Dec 1 Yongey Buddhist Center, Milpitas CA USA Dec 9 - 15 Kagyu Droden Kunchab, San Francisco CA USA Dec 16 Spirit Rock Meditation Center, Woodacre CA USA Dec 17- 20 Rigpa, San Francisco CA USA Dec 21 - 24 Santa Cruz Kagyu Center, CA USA Dec 26 - Jan 5 Vancouver Kagyu Center, BC Canada Jan 6 - 13 Karma Sonam Darje Ling, Toronto, ON Canada Jan 14 - 20 Kamtsang Yeshe Chokhor, Kitchener ON Canada Jan 21 - 28 Halifax Shambhala Center, NS Canada Feb 7 - 13 Kagyu Thubten Choling, Wappingers Falls NY USA Feb 15 - 22 Kagyu Dzong Buddhist Center, Paris France Feb 23 - Mar 1 Kagyu Ling, France Mar 2 - 9 Karma Tashi Ling Buddhist Center, Oslo Norway

Also note Mingyur Rinpoche's new web sites

www.mingyur.org www.yongey.org

thank you Ben Rosenzweig Pundarika Foundation Webmaster