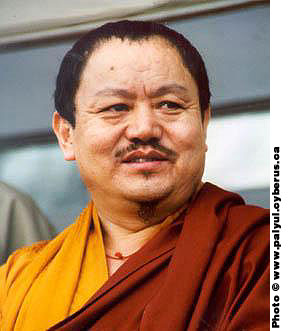 Khenchen Tsewang Gyatso Rinpoche January 1, 2004 - January 8, 2004

Amitabha Empowerment and Pure Land Teachings Fan Yin Temple, Brooklyn

Khenchen Tsewang Gyatso will grant an empowerment of Amitabha followed by practice instructions and teachings on the relationship of Amitabha practice and Bardo teachings.

Saturday, January 3, 2004 10:00 am: Amitabha Empowerment 12:00 pm: Lunch at the Temple with Khen Rinpoche 1:30 pm: Practice Instructions and Teachings on Dewachen. Translation to Mandarin will be provided.
Location: Fan Yin Temple 5601 Fort Hamilton Parkway Brooklyn, NY

Directions: By Car: From Manhattan. BQE(278)West to 6 Ave exit,make left and right onto 65 st,go to Fort Hamilton Parthwy and make left turn.go to 56 st.

Subway: Take the "N" train to the Fort Hamilton Parkway exit in Brooklyn. Exit from subway is 61st Street; walk to 56th Street.

These teachings are completely sponsored by the Students of the Fan Yin Temple and Palyul New York. No requested donation is listed as a result. Offerings may be made directly to teacher and monks.

Ngondro Module: Vajrasattva and Lama'i Naljor At Dolma Carpet Gallery, Manhattan

Khenchen Tsewang Gyatso will teach on the actual practices of Vajrasattva and Lama'i Naljor (Guru Yoga) in this day-long seminar. No pre-requisite - open to all.

Sunday, January 4, 2004 10:30 am Teachings on the Purification Practice of Vajrasattva 12:30 pm (approximate) Lunch break 2:00 pm Teachings on the Devotional Practice of Lama'i Naljor

Tuesday, January 6, 2004 7:30 PM Post-holiday Blues

The holidays are over, the credit card bills are starting to roll in, the days are short, and it seems like there's little to look forward to in the long winter season ahead. In this teaching on Khenchen Rinpoche will give practical advice for utilizing the winter seasons in the most beneficial way we can.

Location: Dolma Carpet Gallery 417 Lafayette Street, 2nd Floor

Directions: Take the "6" train to Astor Place or the "N" or "R" to 8th Street. Walk south on Lafayette Street, past the Public Theater. Dolma Carpet in on the left side of the street as you head south.

The center is gratefully accepting donations to cover expenses for the teaching program above. Suggested: $20 per session.

BRIEF BIOGRAPHY: Khenchen Tsewang Gyatso Rinpoche is one of the three senior Khenpos (Abbots) at Ngagyur Nyingma Institute, the prestigious Buddhist studies and research center in Bylakuppe, India. He received training under many masters in India, and received the entire Longchen Nyingthik lineage and commentaries directly from His Holiness Dilgo Khyentse Rinpoche; the entire New Treasure Lineage from His Holiness Dudjom Rinpoche; and the Nam Cho and Rinchen Terzod from His Holiness Penor Rinpoche. Khen Rinpoche studied at Varanasi with Khenchen Palden Sherab, graduating with honors as the most outstanding student among all his classmates in all four schools of Tibetan Buddhism. Khen Rinpoche was part of the small assembly of monks in 1981 when His Holiness Penor Rinpoche first gave the first empowerments and teachings known as Liberation is in the Palm of Your Hand, the same set of practices he has been teaching in New York. His Holiness Penor Rinpoche has instructed Khen Rinpoche to offer teachings internationally twice yearly. Khen Rinpoche's fluent English, quick sense of humor and deep insight into the Western mind makes him particularly suited to teaching in the West.

For more information, please visit: http://newyork.palyul.org/events.htm .