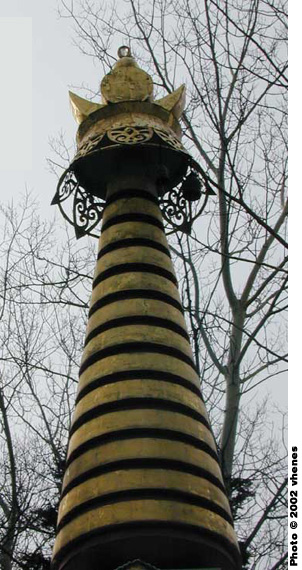 Tashi Delek!

In Beijing today, Jiang Zemin, who has been the head of the Chinese Communist Party and the President of China for the past 10 years, handed over the reigns of power to Hu Jintao at the 16th People's Party Congress. The Congress is only held every five years, and is where the most important decisions affecting Chinese politics are made. There is much speculation by the media right now as to what kind of leader Hu Jintao will be. Thankfully though, they are consistently mentioning his past record in Tibet where, as party secretary, Hu ruled with an iron fist. We first introduced Hu to the power of the Tibet movement when he visited the US last April and are looking forward to making him realize in the months and years to come that he needs to get out of Tibet once and for all!

In the US, we said goodbye (and good riddance!) to Jiang during his last state visit in October. In Chicago, Houston and San Francisco, hundreds of Tibetans and supporters followed Jiang Zemin around and let him know that we won't stop until Tibet is free. SFT's biggest role was in Houston, where Jiang Zemin had dinner with executives from ExxonMobil and Shell, and many Chinese and American government officials. Alma and Thupten, along with a team of Tibetans from the Tibetan Youth Congress and the Tibetan Association of Northern California, flew into Houston and worked together with Mark Cueva (Sector 6 contact and SFT's Texan powerhouse!) and members of Texans for Tibet to organize a very noisy and colorful protest. In other news, Lhadon just returned from Norway and England, where she met with the kick-ass Norwegian and English SFTers.
She gave numerous slide presentations about the situation in Tibet and what SFT is doing to change it and worked with the students there to recruit new members. Together with SFT Norway Board members in a planning meeting in Oslo, Lhadon helped plot the bright future of SFT in Europe. We have high hopes for SFT Europe and are planning to hold an SFT Europe conference in January or February next year. We'll keep you posted on the progress, and if you live in Europe please get in touch with us so that you can be involved. Write to: lhadon.sft@juno.com

John is in London right now for a meeting with Samdhong Rinpoche, the Prime Minister of the Tibetan Government in Exile. As well as being the Executive Director of Students for a Free Tibet, John is the Co-Chair of the International Tibet Support Network (ITSN) and he will be meeting with Rinpoche in this capacity.

Now for other SFT business…

DECEMBER 7: BOYCOTT MADE IN CHINA CAMPAIGN LAUNCH This December 7, Tibetans and supporters around the world will officially launch the Boycott Made in China campaign. While the campaign will be an ongoing, long-term effort, the idea behind the launch date on December 7 is to officially announce the Boycott to the media, the Chinese government, and the international community. This launch also allows all boycott supporters to work together and show our strength through one unified day of action. Already SFTers across the U.S. and Canada and in India, Poland, Norway and beyond are planning Boycott activities.

There are countless things you and your chapter can do for the boycott launch – you can flyer at department stores (flyers and brochures will be downloadable off our website soon); hold a demonstration/stage political theater in a public setting; write letters to campus and other store managers asking them to stock products not made in China; collect pledges from people who won't buy goods made in China; and much, much more! If you are interested in taking part in the boycott launch and campaign and would like to talk to us about ideas for this day, please email us at sft@igc.org.

To read more about taking Direct Economic Action for Tibet please visit the Rangzen Alliance web site: http://www.rangzen.net/eng/dea/index.html

CHAPTER DUES Chapter dues. Chapter dues. Chapter dues.

Please pay them. Please pay them. Please pay them.

As of now only 28 chapters have paid their chapter dues since September. We know you were just about to send yours in! Make your $100 check payable to SFT and mail to 602 East 14 Street, 2nd Floor, New York, NY 10009. And remember, if you need ideas for how to find the money, go to www.tibet.org/sft/action/fundraising.html

SFT CONFERENCES

We are planning to hold the International SFT conference this January over the winter break. It is tentatively being planned for Berkeley, California. Please keep the second week of January free and stay tuned for more news on this conference in the next few weeks.

SFT at the University of Calgary is planning a conference for March 2003 and they hope SFTers from western Canada and the northwestern States will attend. We hope to have more information about this soon.

The first SFT Europe conference is also in the works! It is likely that it will take place in late January or early February. We will keep you posted on the date and location.

PALDEN GYATSO TOUR Palden Gyato's tour ended at Saddleback College in Mission Viejo on October 22nd. A huge thank you goes out to everyone who helped organize this tour. We can't make any promises yet, but it is possible that Palden Gyatso and the Drapchi nuns, Choeying Kunsang and Passang Lhamo who toured in the Spring, may be available to speak to chapters in the coming spring. If you would be interested in hosting them at your school, please contact Alma: alma.sft@juno.com.

CHAPTER MAILING We sent out our Fall chapter mailing late last month. If your chapter has not received the mailing, this means we do not have the correct address for your chapter contact. Please email your complete contact info (Name, address, city, zip, state, country, email & phone number) to alma.sft@juno.com.

Have a great weekend, and we look forward to hearing about your ideas for the December 7th Boycott Made in China campaign launch.

Bod Rangzen. Free Tibet.



---