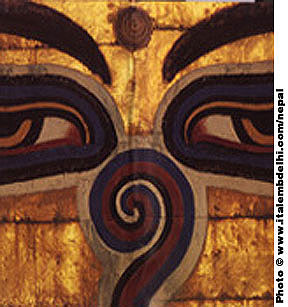 Beijing, July 11 (AFP) - Nepal's king has promised China it will seek greater cooperation on the sensitive issue of Tibet and not allow people inside its borders to state anti-Chinese protests.

King Gyanendra made the pledge Wednesday during a meeting with President Jiang Zemin on the first full day of a six-day visit, the China Daily reported.

"(Nepal) will not allow the emergence of elements running against the development of Nepalese-Chinese ties," the paper said, quoting the king.

"It will not permit within its borders any activities that undermine China's interests," the king reportedly said.

Tibet, which China has ruled in often brutal fashion since 1951 and shares about 1,000 kilometers (625 miles) of border with Nepal, is of particular importance in bilateral relations.
About 35,000 Tibetan exiles have settled in Nepal over the past decades, forming an ongoing concern for Beijing.

At the same meeting, Jiang made a reverse pledge to offer "moral support" in Nepal's struggle with Maoist rebels, Nepal's ambassador to Beijing said late Wednesday.

"The Chinese president said that China condemns terrorist actions taking place in Nepal," Rajeswore Acharya told AFP.

"He said China stands firmly in favor of His Majesty's government in fighting the terrorism," the ambassador said.

Prior to the king's visit, which began Tuesday, a Nepal foreign ministry source said cooperation in the fight against the violent Maoist rebellion in Nepal would top the agenda.

Around 4,300 people have been killed since Nepal's ultra-left guerrillas launched their "people's war" for a communist republic in 1996, with more than half the deaths occurring in the past year alone.

Despite the rebels' reverence for communist China's founder Mao Zedong, Beijing has repeatedly repudiated the guerrillas and voiced support for Nepal's crackdown on them.

Nepalese ambassador Acharya said no specific cooperation in the combat against the rebels had been discussed in the meeting with Jiang.

"We did not ask for any concrete cooperation," he said. "We hope for political and moral support from China, and that was assured."

The two leaders agreed that the geographic proximity between Tibet and Nepal was a great advantage and would help in developing mutually beneficial cooperation, the China Daily reported.

Jiang additionally urged exchanges to be stepped up among all levels of society, according to China's official Xinhua news agency.

Apart from visits by top leaders, exchanges should be increased between legislatures, political parties, industrial and commercial circles, the press and non-governmental organizations, the Chinese leader said.

An agreement on trade between Tibet and Nepal, signed late Wednesday, would greatly assist communication and cooperation between Tibet and Nepal, Xinhua said.